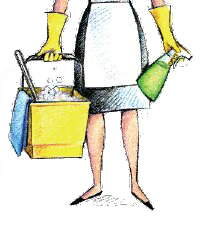 Delivering The Best Cleaning Services In The Duluth, MN Area!
Hands and Knees Clean is a professional cleaning and maid service with over 8 years of experience. Whether you have a residential, commercial or small office space that needs cleaning, we make sure we customize our services to meet your needs and budget. We offer a full range of cleaning services such as apartment cleaning, house cleaning, small office cleaning, and janitorial services. We also guarantee your home is cleaned correctly every time.
Your home will be cleaned to your highest expectations by trained professionals at very affordable rates. We're happy to customize a cleaning plan to suit your specific needs or add special instructions whenever you need that something extra. If you dream of walking into an immaculate house without taking the time or effort, Hands & Knees Clean LLC is ready to help. Our cleaning services cover a wide range of tasks to free up your time so you can concentrate on the important things in life – family, friends, career, and hobbies. Gift certificates available in any denomination. Call today and let us know how we can help you.
We offer competitive rates for all types of cleaning, including:
Weekly Cleaning • Special Event Preparation or Clean-Up • Spring Cleaning
Move-Out/Move-In • Commercial Spaces • Small Office Cleaning
Our team shows a level of excellence that surpasses our competitors, setting new standards. We specialize in just about every area of Cleaning Services and take pride in our work. Be assured, we'll treat your Home or Business as if it's our own! Your satisfaction is our main priority, and we always work with our customers to achieve outstanding results!
We are dedicated to the local community, and have been in business since 2009! We've continued setting our quality expectations high, to ensure you will always love the results. Our experts have many years of experience in the industry — necessary to bring your cleaning task to completion in a timely manner. Let Us Handle All Your Cleaning Needs Today!
Our Services
Cleaning Services • House Cleaning Services • House Cleaning
Home Cleaning Services • Residential Cleaning Services • Cleaning Companies
Commercial Cleaning • Janitorial Services • Small Office Cleaning • Maid Service
Phone
(218) 349-8558
Service Area
Located In Hermantown, We Serve A 30 Mile Radius Surrounding Duluth, MN
Payments Accepted
Cash, Check, Venmo & Zelle
Business Hours
Monday – 8am-5pm
Tuesday – 8am-5pm
Wednesday – 8am-5pm
Thursday – 8am-5pm
Friday – 8am-5pm
Saturday – By Appointment
Sunday – By Appointment
Fill out this simple form, and we'll contact you shortly!